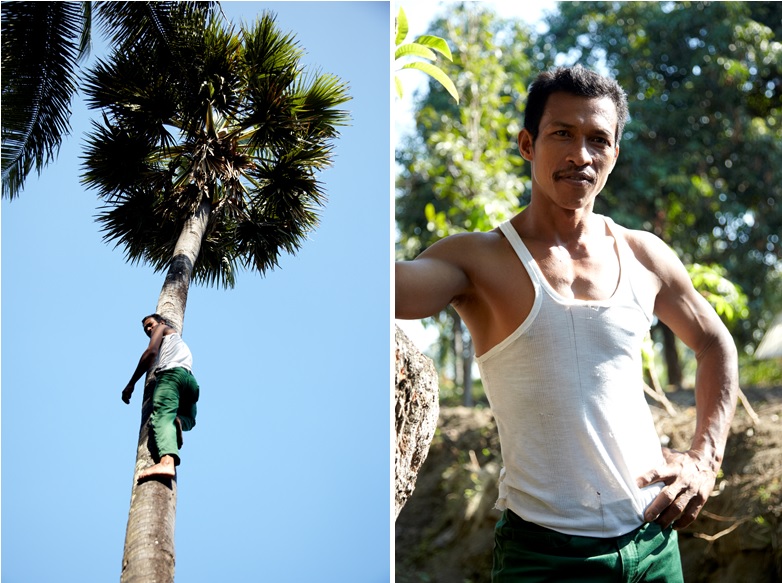 Going organic
Since the 1970s, chemical fertilisers and pesticides have made their way into Balinese farming practices.
Believing that organic practices are more sustainable, Gaia-Oasis began a project on its land to grow all its vegetables, herbs and fruits organically.
This has enabled Gaia guests to enjoy 'farm-to-table' organic produce at its best. It also enables us to raise awareness of the risks of chemicals, and to provide more income for local farmers.
Background
Tejakula, like most farming areas, has landowners and tenant farmers. The landowners can own vast tracks of land; the tenant farmers will stay on the owner's land, and get 25% of the yield for looking after the land.
A common practice is for the absentee landowner to pre-sell the crop to brokers. The brokers would then spray and inject growth hormones into the trees for maximum yield, and the owner would get 75% of the price while the tenant farmers would get 25%.
What we are doing :
Starting in 2008, Yayasan terminated all 'pre-sold' harvests. We continue to work hard to revive the soil and improve the microclimate at our Abasan mountain retreat. Among other steps, we:
–          Bring in experienced consultants in organic farming and permaculture to restore the land
–          Take farmers on comparative study-trips, for new ideas and contacts
–          Prepare several hundred biopores on the land for better water absorption, to encourage earthworms, and for compost for new trees each year.
–          Restrict the planting of harmful imperata grass (ilalang weed) as food for cows, planting gamal trees instead.
–          Use mulching and traditional methods such as the use of banana trunks to maintain moisture in the soil
–          Encourage farmers to seed-save and to use non-GMO seeds
–          Practice rotational shifting cultivation and inter-cropping
–          Control pests by organic management using chilli, shallot, garlic, galangal, turmeric, lemongrass.
–          Promote biodiversity instead of relying on a single monocultural crop (mangoes)
Benefits for the Farmers
At the same time, we take measures to improve farmers' incomes:
–          Planting higher-value crop like durian, cacao and avocado which are now starting to bear fruit
–          Implementing better recording and collective selling of yield including for vegetables, mangoes and coconut.
–          Selling directly to organic shops and restaurants for better prices
–          Offering farmers 50% of the yield, on the condition they go fully organic
Perspectives
We recognize that organic farming is not yet and may never fully be a mainstream practice, compared to modern chemical methods, especially in Tejakula, where there is no mass market for organic produce. Some people grow organic food for their own consumption but commercial crops are unlikely to go organic in the near future. A side benefit is how our organic efforts have encouraged local residents to grow their own food, and reduced monoculture in our vicinity. We have noticed other farmers diversifying their crops when they see some of our crops succeeding.
Next Steps
… for Food Products
Yayasan aims to help farmers sell food products, not just raw material. We have started by running workshops with the Health Department, to produce aren nectar from the lontar palm. Our aim is to get local farmers certified for household industries (P-IRT) under the yayasan, to sell jams, aren nectar, sun-dried fruit and similar produce. The additional income from these practices, will hopefully encourage farmers to keep looking after the land.
 … for the Community Forest "Hutan Desa"
Yayasan's Abasan Retreat borders a forest that was in a sorry state when we first started. After many years of lobbying, in 2017 Tejakula obtained a change of status of the land to "Community Forest". This allows the village to lease out the land to farmers and to encourage agro-forestry plantation subject to certain conditions viz. no cutting of trees, no timber trees, and no slash and burn practices. There are plans for eco-tourism, forest and waterfall treks, but it is early days yet, and Yayasan will monitor developments with the project enthusiastically and closely.