Banyu Pinaruh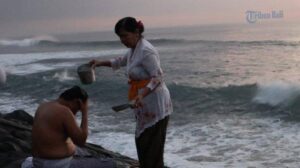 Banyu Pinaruh is one of the key events held during Saraswati celebrations in Bali. The event is celebrated every 210 days in accordance with the Balinese Calendar.
At the core of this event is the celebration of the virtue of knowledge and the role it plays in the present day world.
The name Banyu Pinaruh is derived from two words: Banyuh, which translates to 'holy waters' and Pinaruh which means 'knowledge'. A combination of the two words means that locals regard this as the celebration of the sacred waters of knowledge. This is derived from the fact that locals believe that Saraswati, the goddess of knowledge, gave knowledge to the human race on this particular day.
As a cultural ritual that is part of the traditions in Bali, the event is characterised by gathering of the locals in the early morning at any of the following locations: the river banks, the shores of the lake or at the beach. Taking a bath at these locations is believed to rejuvenate the body and get rid of the mundane feeling that comes from day to day activities.